Finding the Artist Within Us All…
It's not uncommon to be intimidated about starting new creative project. How do you make a Sailor's Valentine? What about supplies? It seems too complicated, so intricate, and expensive.
Now, I will remind everyone of that quiet walk along the beach and the excitement of finding that treasured sea shell. Do you have a box of shells in the closet? I believe it's begging to see the light of day once again. Creating a sailor's valentine is a time honored tradition of displaying sea shells and sea life.
In conjunction with the Sarasota Shell Club Artisans I will be teaching a one day, four hour introductory class where students will solve the mystery surrounding this art form. Each student will complete a simple project taking into account the Barbados crafter's techniques from the 1800's.
Here is the example of what we will complete during class Friday, February 16, 2018. Our class fee is $100. It includes all materials needed. (Although one may wish to bring a snack.) The class will run 10-2pm at the Sarasota Club Artisans workshop located at the Bea Ridge Presbyterian Church in Sarasota Florida.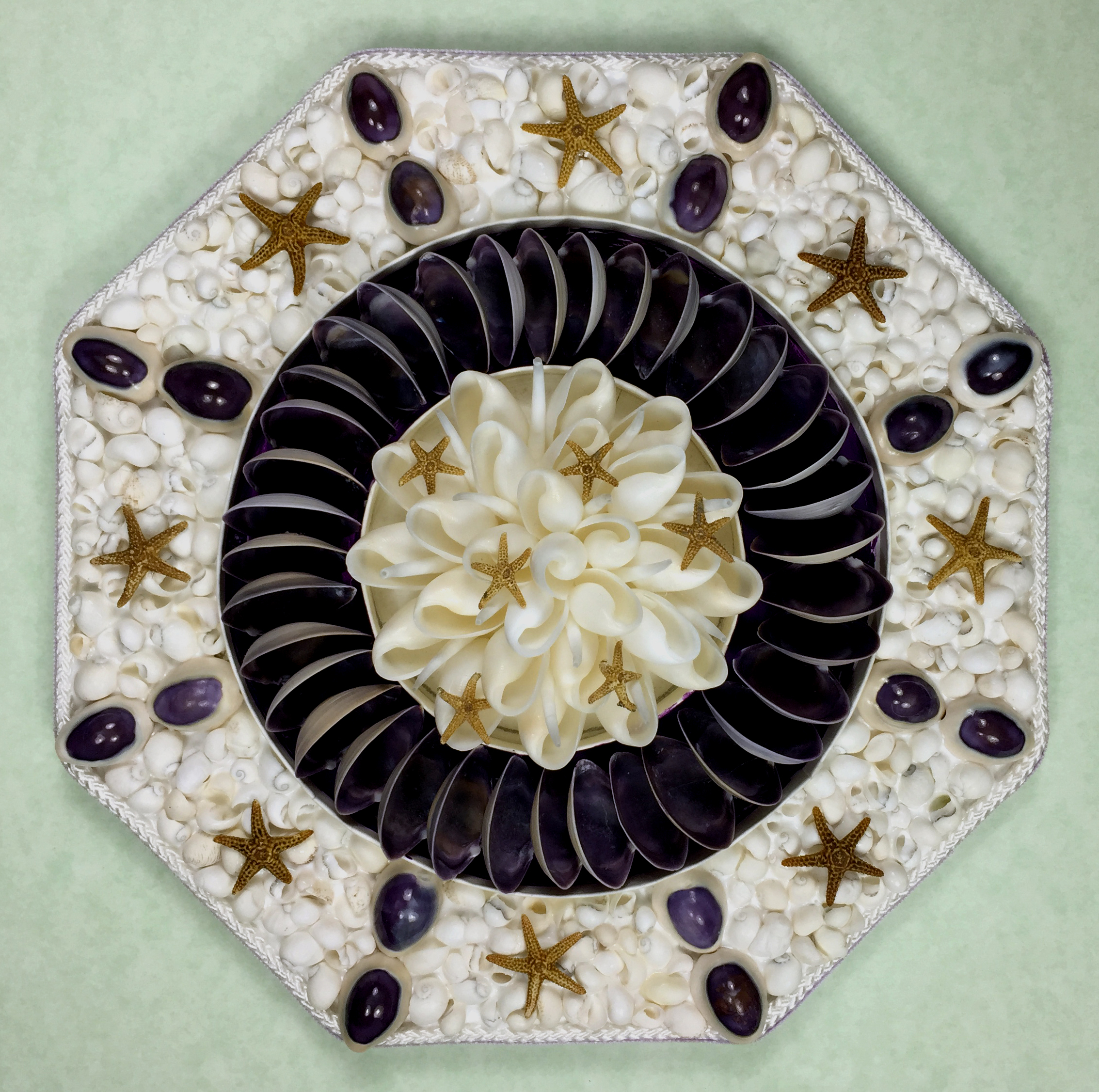 My goal is to find that artist within us all through friendship, imagination, laughter and smiles.  If interested call Suzanne – 309-883-1590. Or, click back to the 'Treasures' section on this website and submit payment for your reservation. Class size is limited so advance registration is required. Once the Friday class is filled I will schedule a class for Saturday, February 17.
We encourage everyone to attend their local shell show and enjoy the many shell art exhibits from hobbyists to professionals. Plus take a moment to learn details about those little treasures that wash up on our beaches from the specimen exhibits. More information about the upcoming Sarasota Shell Show February 9-11, 2018 can be found on their website www.sarasotashellclub.com
I am also available to teach a more intense 3 day class. All materials will be included to complete a framed traditional sailor's valentine similar to the valentine shown below. This class is scheduled for February 19-21 and will run $600 per student. It will also be located at the Sarasota Shell Club Artisan's workshop at the Bea Ridge Presbyterian Church in Sarasota Florida.  Registration for the 3 day class deadline is January 15, 2018.