Spread the Word – Summer is here and the class schedules for Nantucket's 1800 House have been posted. Check www.nha.org/1800house  for details. Sailor's Valentine Classes are scheduled for the second and third week of this August. My goal, as always, is to find the artist within us all though friendship, imagination, laughter and smiles.
August 14, 15 and 16.  We will concentrate on design choices as well as create unique decorative specimens such as octopus, sea horse, sea stars or scallop shells to feature in the "Ocean Treasures" valentine. We will also be cutting illustration board as requested last year.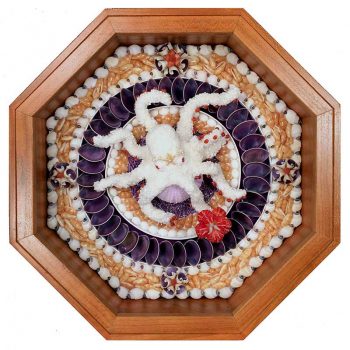 August 8, 9 and 10.  The beginner level sailor's valentine class will concentrate on techniques used by the nineteenth-century shell crafters of Barbados. This valentine design is similar to the original artifact on display at the NHA Whaling Museum. Choose from the flower basket or flower rings design.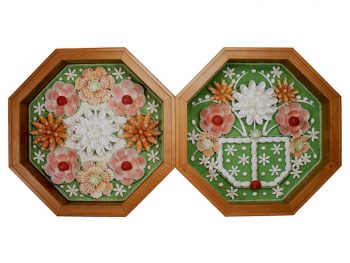 August 11.  The "Pretty as a Picture Class" is designed for young and old alike… to learn about Sailor's Valentines and complete a very basic, inexpensive shell mosaic. The center window of this design will accommodate any favorite photo or picture.